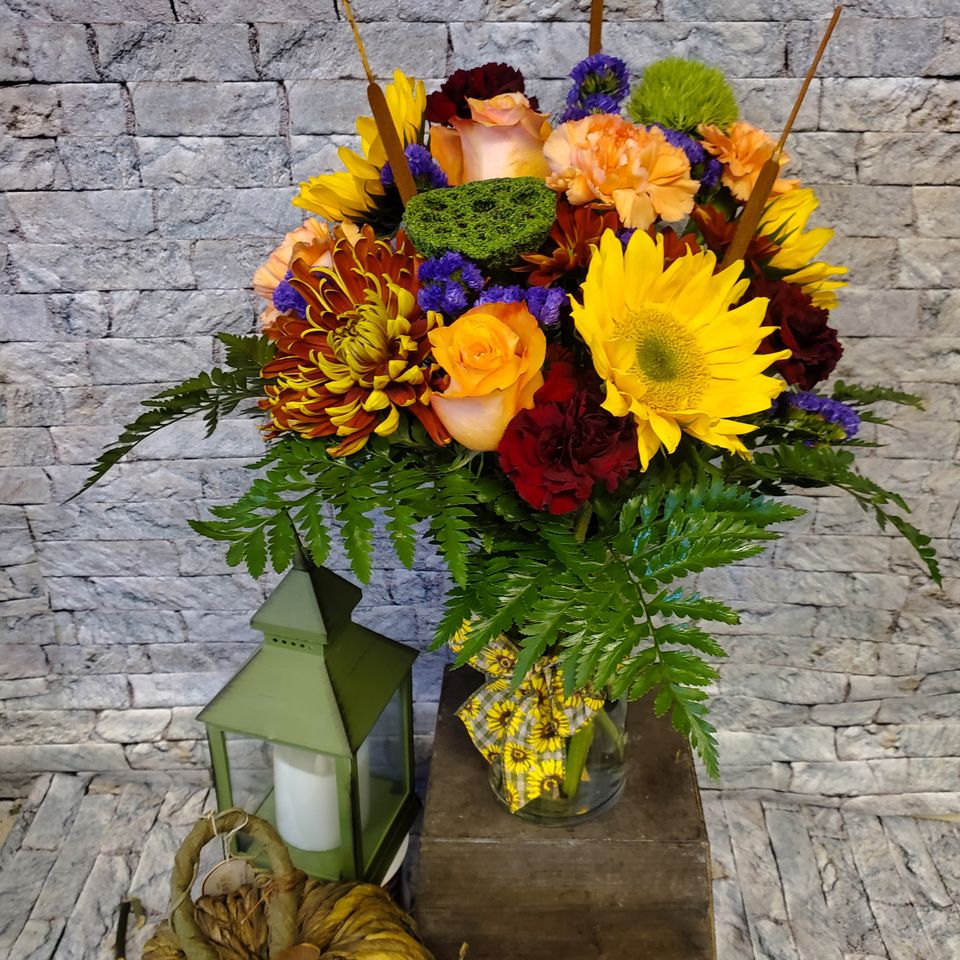 To Place your order call 417-753-2040. If no answer please leave a message and we will call you back.
Rogersville Flower & Gifts - Your Professional Local Florist
For quality flower arrangements and gifts in Rogersville, order from Rogersville Flower & Gifts! Our florists are committed to creating beautiful, unique floral gifts for any occasion. Rogersville Flower & Gifts offers flower delivery in and around Rogersville, as well as nationwide delivery through our reliable florist network! Need a last-minute gift? Rogersville Flower & Gifts provides same-day flower delivery if ordered by 11.

Fresh flowers are the perfect way to brighten a loved one's day. Send the perfect anniversary flowers, birthday flowers, or Mother's Day flowers quickly and easily! No matter what kind of bouquet you need: from a romantic Valentine's Day bouquet to a breathtaking arrangement of get well flowers, we've got all kinds of beautiful floral designs for many unique occasions. Rogersville Flower & Gifts, your trusted local florist in Rogersville MO, offers the most gorgeous gifts, so don't settle for anything less than the best.

Looking for the perfect gift that you can order and deliver with ease? Rogersville Flower & Gifts has a wide variety of floral gifts available on our website. No matter the occasion, you can trust our local Rogersville florists to arrange a beautiful floral bouquet that is guaranteed to please. When you want the freshest flowers delivered to that special someone, trust Rogersville Flower & Gifts for floral delivery in Rogersville or nationwide.
Rogersville Flower & Gifts in Rogersville, MO provides flower delivery service to the following areas and zip codes in Missouri: ROGERSVILLE, SPRINGFIELD and FORDLAND.

WE SERVE THE FOLLOWING HOSPITALS: Mercy Hospital (St. John's), Cox South, Cox North, Cox Walnut Lawn and Doctor's Hospital.

WE SERVE THE FOLLOWING FUNERAL HOMES: J.D.Lee & Sons, Greenlawn - South, East and North, Gorman-Scharpf, Herman Lohmeyer, Klingner-Cope - Rivermonte, Midtown, White Chapel and Eastlawn, Walnut Lawn, Adams - Ozark, Adams - Nixa, Barnes - Ozark, Holman-Howell - Seymour, Day - Marshfield and Fraker - Marshfield.

Whether your order is to be delivered across the street, throughout the United States, or around the world, WE LOVE TO PLEASE OUR CUSTOMERS!
We've Got What You Need!
And we're very excited to share it with you!